Goedemorgen heren (en dames),
Ik ben al enige tijd op zoek naar echt "accukenners" die verstand van zaken hebben en met name thuis zijn in de zelfbouw van onder andere lithiumcellen.
Ik zal het verhaal zo beknopt mogelijk proberen te houden maar ik ben bang dat dat lastig gaat worden. Daar gaan we
Ik ben in het bezit van een Torqeedo buitenboordmotor. Dit betreft specifiek de Torqeedo Cruise 4
https://tinyurl.com/yynjqo7l
.
Dit is een elektromotor voor achter bijvoorbeeld een RIB bootje. Op deze motor, die voor een elektromotor best "zwaar" is, moet een 48v extern accupakket worden aangesloten. Grofweg heb je hierin 2 mogelijkheden.
Optie 1 is om een eigen accu van Torqeedo te gebruiken. Dit is echt de mooiste oplossing want je hebt dan kant en klaar 5kWh aan energie bij je en de accu communiceert met de motor zelf. Hierdoor krijg je op het display van de stuurknuppel allerlei real-time handige informatie te zien zoals verbruik in Watt, resterende vaartijd en afstand en accupercentage. De accu is gebaseerd op de accu uit de BMW i3 en heeft een LMO-NMC chemie. Hierdoor is de vrij licht voor 5kWh en heeft hij tevens een hoog aantal laadcyclussen (zo n 3000). Aan de accu (de Torqeedo Power 48-5000
https://tinyurl.com/y29ymz8t
) hangt echter een aanzienlijk prijskaartje te weten 5000 euro.
Optie 2 is om een extern accupakket op de Torqeedo aan te sluiten. De goedkoopste optie is dan natuurlijk om een pakket van 4 stuks 12v 100Ah gel/loodaccus erop aan te sluiten. Deze, inmiddels toch wel oudere, accu's zijn enorm zwaar en het is geen doen om dit telkens in en uit te moeten laden. Je gaat dus al snel naar lithium accu's kijken. Voor lithium zijn er inmiddels aardig wat "varianten" op de markt. Ik heb eerst naar LifePO4 gekeken. LifePO4 is mooi aangezien het een zeer hoog aantal life cyclussen heeft maar het is echter wel zwaarder dan NMC accu's.
Ik ben vervolgens gaan onderzoeken welke BMW accu Torqeedo voor haar Power 48-5000 gebruikt. Het heeft aardig wat onderzoek gekost aangezien Torqeedo dit natuurlijk niet zomaar prijs wil geven maar uiteindelijk heb ik vast kunnen stellen dat het gaat om de BMW i3 120Ah module (BMW SKU Code 61277933747). Op internet zijn geen specificaties terug te vinden over de accu, maar ik heb ze opgevraagd via BMW: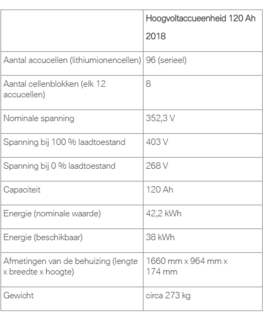 Je moet bovenstaande waardes nog wel delen door 8 want dit zijn de volledige specs van een BMW i3 accupakket en in 1 auto gaan 8 modules. Torqeedo gebruikt dus 1 zo n module voor haar Torqeedo batterij.
Ik heb inmiddels deze accu bij BMW Nederland besteld aangezien dit aardig wat scheelt met de prijs van Torqeedo. Hij kost namelijk 1650 euro. Dit lijkt een hoop geld maar trust me, voor 5kWh aan vermogen aan lithium valt dit reuze mee.
Ik ben er echter nog niet met alleen deze module natuurlijk want hij zal nog "compatible" moeten worden gemaakt voor mijn Torqeedo motor.
Een aantal dingen waar ik over nagedacht heb die ik moet regelen:
A. een fatsoenlijk BMS systeem voor het in de gaten houden van het voltage en de temperatuur.
B. een waterdichte behuizing
C. koeling van de cellen
D. mogelijkheid om de module op te laden
E. ervoor zorgen dat mijn custom made BMW accupakket is aan te sluiten op de Torqeedo motor (Anderson input plug op de Torqeedo motor)
A.
Stap 1: BMS systeem
Het BMS systeem moet de accu in de gaten houden. Hier komen de eerste echte vragen die ik heb. Ten eerste zou ik graag willen weten of het noodzakelijk is dat ik alle 12 cellen (want er zitten 12 parallel geschakelde cellen in) allemaal apart ga monitoren of dat ik gewoon 1 meetpunt (bijvoorbeeld in het midden) pak. Ik weet in dit geval namelijk zeker dat ik een nieuw pakket koop en de cellen dus vanaf het begin "gelijk" zullen zijn qua waarde. Of gaan cellen in de loop der tijd toch van elkaar afwijken en is het daarmee noodzakelijk om alle 12 cellen apart te gaan monitoren?
B.
Waterdichte IP67 behuizing. Geen idee hoe ik hier aan zou moeten komen.....
C.
Koeling van de module/cellen. Ik kan er niet achter komen hoe Torqeedo de cellen koelt. Het enige dat ik zeker weet is dat dit niet actief wordt gedaan. Op welke manier ze dit wel doen weet ik niet. Wellicht is de behuizing van de BMW module (ik moet m nog binnen krijgen) goed genoeg dat verdere koeling niet nodig is?
D.
Mogelijkheid om de module op te laden. Hoe ga ik hierin te werk? Moet ik alle 12 cellen telkens separaat stuk voor stuk opladen? Dat lijkt me niet. Als dit niet zo is zal ik een acculader 45V moeten vinden denk ik gezien de specs van de BMW module (zie bovenstaand plaatje)?
E.
Ik heb nog geen idee hoe ik dit moet gaan doen eigenlijk....
Jullie zijn aan bovenstaand verhaal dat ik al een stukje op weg ben maar er tevens nog lang niet ben. Ik hoop dat jullie een inhoudelijk toelichting op mijn vragen kunnen geven.
Dank!